Web Directions Summit Team Offers
Over the years we've had many many teams attend our conferences together–treating it like an offsite, with amazing speakers, coffee, and more. Some come back year after year (well, they did until Covid). And now we're returning, bigger and better than ever, we're keen to make it really worth your while to attend together.
So we've got a range of bonuses for groups of 5 or more from the same organisation. Read on for more!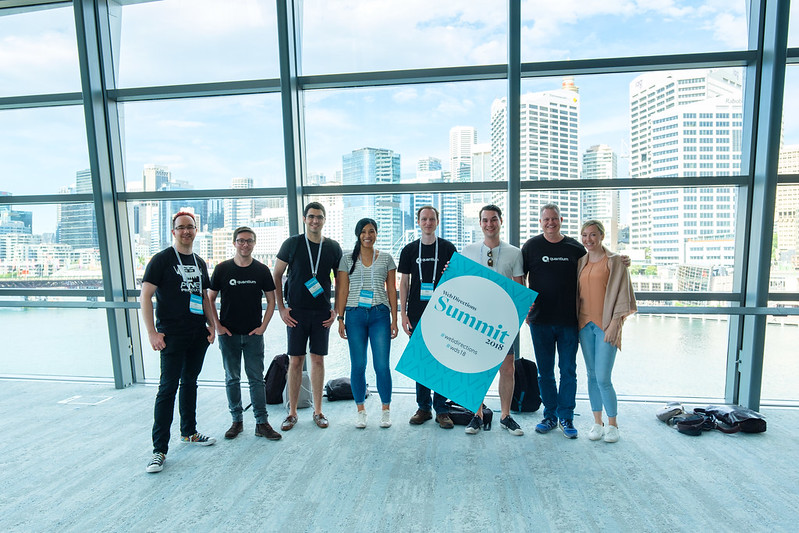 Grow your team (in more ways than one)
To make it even more worth your while to attend as a team we have a number of team packages. They focus on your professional development, but also help your organisation meet one of the really pressing challenges many are facing right now–acquiring great people.
Or if you have a product or service of value to our audience of designers, product professionals or frontend engineers, then you can showcase your product to potential customers in our audience.
What's a team?
A team is any group of people from the same organisation-even if you don't actually work together as a team. And because of Summit's unique breadth, with tracks focussed on design, product management and frontend engineering, we cover the whole front end and digital team.
Come as a Team of 5 or more
Come as a team of 5 or more and we'll upgrade all your tickets–grab a classic ticket and we'll upgrade to silver, or grab a silver and we'll upgrade you to a gold ticket.
Come as a Team of 10 or more
Come as a team of 10 or more and not only will we upgrade every team member, we'll add 2 tickets to the Code Leaders conference, taking place the day before Summit, as well.
Designed for senior engineering professionals, leaders and managers, Code Leaders will help your team leadership, or your next generation of leaders, develop their leadership capabilities.
Come as a Team 20 or more and we'll make you a sponsor!
Got a bigger team, perhaps across product, design and engineering? Get 20 or more along and we've got some extra special benefits.
Bonus 'Awareness' sponsorship
Not only will we upgrade every team member's ticket, and give you 4 Code Leaders tickets. But we'll also give your organisation an awareness level sponsorship of the conference–valued at $7,500.
Designed for employers looking for brand awareness in a competitive market for talent, and companies looking to gain brand and product awareness with an audience in the target market for their product, your employer will get a range of signage, brand and communications benefits to highlight your organisation, and help establish your brand among potential new talent, or customers among the many hundreds of engineering, design and product professionals at Summit.
2 Hour session with founder John Allsopp for your organisation
And we'll add a 2 hour session with founder John Allsopp for your organisation (not just for those attending) either at your office, or via video. John, who has been involved with designing and developing for the Web for nearly 30 years and whose ideas were foundational to the development of modern web design, and the widespread adoption of Web fonts will share his insights into current trends in technology and more, and answer your teams questions
Finally, for 30 or more, we've got even more
For teams of 30 or more we'll upgrade you all, provide 6 Code Leaders tickets, and a 2 hour session with John Allsopp
Bonus 'Presence' Sponsorship at Summit
We'll also make you a presence level sponsor. Presence level sponsors get plenty of brand recognition and signage, communications before during and after the conference, and a branded presence at the conference where you can connect with attendees, chat about your organisation, or showcase a product of value to our audience. Usually priced at $15,000, we'll make your employer a presence level partner when you come as a team 30 or more.
Even bigger teams?
Want to send even more folks? Let us know-we can workout something custom for you, your team and your organisation.
We'd love to see you there
We can't wait to return and connect folks right across the industry, as we've been doing since 2004. And we'd love to see your team there. If you've got any queries or questions at all, please let us know!
And hopefully we'll see you in Sydney in December.
Great reading, every weekend.
We round up the best writing about the web and send it your way each Friday morning.