Web Directions Safe '21 session spotlight–Let's talk about JWT
Let's talk about JWT
JSON Web Tokens, or JWTs for short, are all over the web. They can be used to track bits of information about a user in a very compact way and can be used in APIs for authorization purposes. Join Jessica Temporal at Safe and learn what JWTs are, what problems it resolves, and how you can use JWTs on your applications.
Jessica Temporal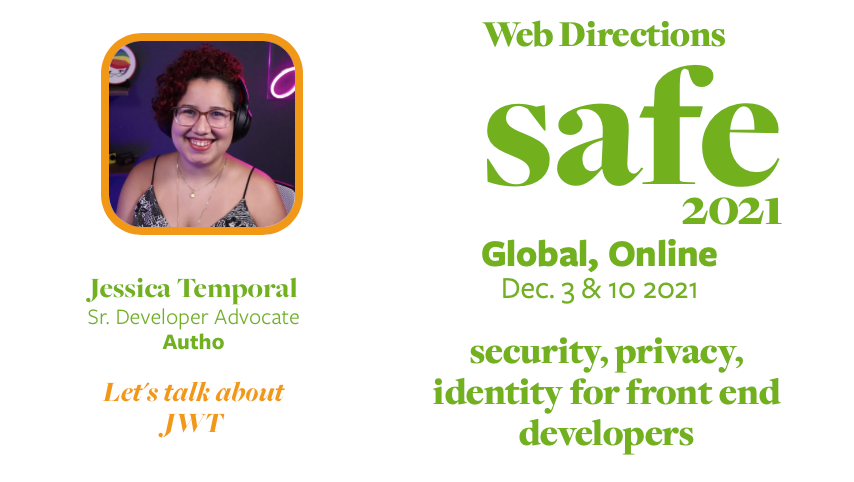 Jessica Temporal is Senior Developer Advocate at Auth0. Pizza de Dados co-founder and co-host, Pizza is the first and most beloved Brazilian podcast about data science. Jessica is also part of the instructors team in Data Bootcamp and LinkedIn Learning. She is part of the PyLadies, an international network for promoting and empowering women in technology. Born in warm weather, she keeps herself warm in the cold Brazilian south with sweaters she knits herself.
In 2022 we have a whole series of events for Front End Developers, plus a Brand New free event in January 2022
Across 2022 Web Directions is presenting our series of online conferences for front end designers and developers. Focussed deep dives, they go far beyond what you might expect from conference programs.
Priced individually from $195, or attend all 6, plus get access to our conference presentation platform Conffab for just $595, or $59 a month.
In January 2022, we'll be showcasing some of there highlights of our 2021 conferences across 3 big weeks, for Free at Remixed! Register now to attend.
Great reading, every weekend.
We round up the best writing about the web and send it your way each Friday morning.