Web Directions Lazy Load '21 session spotlight–The Latest on Measuring Web Performance
The Latest on Measuring Web Performance
Patrick Meenan, Engineering Fellow Catchpoint
At Lazy Load, our online front end performance focussed conference Patrick is going to explore the current state of web performance measurement, both in a lab (synthetic) environment and from real users (RUM). There has been a lot of exciting advancement in this space with Google's Core Web Vitals and evolving of other metrics over the years.
We will also explore how synthetic and RUM data complement each other and when each is most appropriate to use.
About Patrick Meenan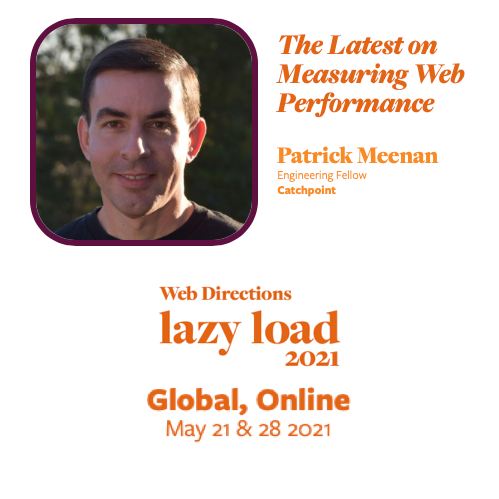 Patrick has been working on web performance in one form or another for the last 20 years and is currently working on web performance measurement at Catchpoint. Prior to that he worked at Facebook, Cloudflare and Google to make Chrome and the web faster.
Patrick created the popular open source WebPageTest web performance measurement tool.
In 2021 we have a whole series of events for Front End Developers
Across 2021 Web Directions is presenting a series of online conferences for front end designers and developers. Focussed deep dives, they go far beyond what you might expect from conference programs.
Across the year we have 4 remaining conferences (Hover our CSS conference took place in April and Lazy Load focussed on performance in June), focussing on JavaScript, Progressive Web Apps, Accessibility, and Security, privacy and identity.

Priced individually from $145, or attend all 6, plus get access to our conference presentation platform Conffab for just $595, or $59 a month.
Great reading, every weekend.
We round up the best writing about the web and send it your way each Friday morning.