Web Directions Code '21 session spotlight–The State of Augmented Reality in the Web Platform
The State of Augmented Reality in the Web Platform
Ada Rose Cannon, Developer Advocate, co-chair Samsung Internet, W3C Immersive Web Groups
The WebXR API can be used to make VR and AR capable websites this talk will introduce some of the newer augmented reality features and how to use them.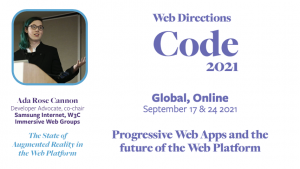 About Ada Rose Cannon
As a developer advocate for Samsung Internet Ada tries to help developers with all the latest features of the Web platform. You can find her on Twitter at @AdaRoseCannon or the Samsung Internet team at @SamsungInternet. Or Email at [email protected]
In 2021 we have a whole series of events for Front End Developers
Across 2021 Web Directions is presenting a series of online conferences for front end designers and developers. Focussed deep dives, they go far beyond what you might expect from conference programs.
Across the year we have 3 remaining conferences (Hover our CSS conference took place in April, Lazy Load focussed on performance in June and Global Scope our JavaScript conference in August), focussing on Progressive Web Apps, Accessibility, and Security, privacy and identity.

Priced individually from $195, or attend all 6, plus get access to our conference presentation platform Conffab for just $595, or $59 a month.
Great reading, every weekend.
We round up the best writing about the web and send it your way each Friday morning.