Web Directions Code '21 session spotlight–Color Contrast and WCAG
Color Contrast and WCAG
Todd Libby, Accessibility Analyst Knowbility
A look into color contrast and WCAG. What are the guidelines, how to achieve those guidelines, tools people can use for color contrast checking, and other tips and tricks to help people understand and achieve great color contrast in their projects.
About Todd Libby
Todd is a professional web developer, designer, and accessibility advocate for 22 years under many different technologies starting with HTML/CSS, Perl, and PHP, Todd has been an avid learner of web technologies for over 40 years starting with many flavors of BASIC all the way to React/Vue. Todd is also a member of the W3C working with groups on WCAG Silver (3.0). When not coding or advocating accessibility, you'll usually find Todd tweeting about (or eating) lobster rolls and accessibility.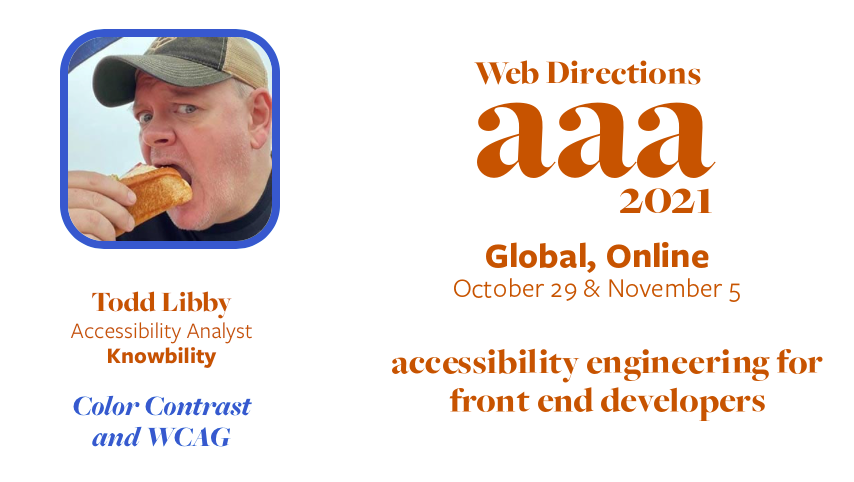 In 2022 we have a whole series of events for Front End Developers, plus a Brand New free event in January 2022
Across 2022 Web Directions is presenting our series of online conferences for front end designers and developers. Focussed deep dives, they go far beyond what you might expect from conference programs.
Priced individually from $195, or attend all 6, plus get access to our conference presentation platform Conffab for just $595, or $59 a month.
In January 2022, we'll be showcasing some of there highlights of our 2021 conferences across 3 big weeks, for Free at Remixed! Register now to attend.
Great reading, every weekend.
We round up the best writing about the web and send it your way each Friday morning.