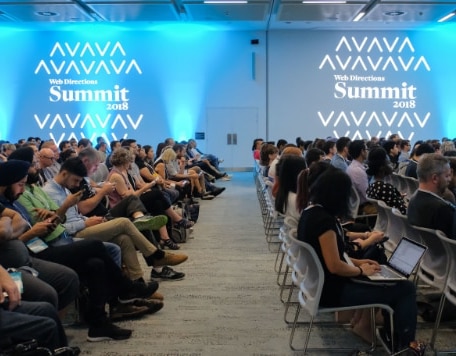 Covid Safety at Web Directions Summit
Since early 2020, we've been thinking about how and when we can safely return to in-person events, and what we can best do to ensure the safest possible environment for our attendees.
Streaming Available
First, for those unable or uncomfortable to return to in-person events at this stage, the event will be streamed. 6 tracks of in depth expertise, hosted on our Conffab streaming platform, and incorporating the many lessons we've learned hosting live online events the last three years.
Safety at the venue
In addition to working with a venue that has focussed on this issue since the beginning of the pandemic, we'll implement a number of measures to help minimize attendees' risks of exposure to Covid.
Covid Symptoms on the day
We'll ask all attendees who have symptoms of respiratory infection to not attend. We appreciate this would be disappointing to an attendee, so to minimize this, while helping ensure everyone's safety we'll
provide access to the conference live stream
credit whatever the attendee has paid in full for a future Web Directions event
Masking
Wearing masks has been demonstrated to be one of the most significant factors in reducing Covid transmission in conference settings. We'll encourage and model mask wearing at all times this is practicable, and provide masks for attendees, speakers and partners.
The Venue
As the leading conference venue in Sydney, The ICC Sydney has worked extensively to provide the safest possible environment for events since the begning of the pandemic.
Spacing
This years event will occupy an entire floor of the ICC, with plenty of space during breaks.
Other measures
We will keep monitoring conditions and comply with any conditions required by the ICC and NSW health.
Some events require additional measures, such as RAT tests on the morning of each day of an event, or proof of vaccination, that we have considered adopting. Because vaccination rates in Australia are so high, we feel requiring proof of vaccination would be an unnecessary additional burden on everyone involved. We have also decided that asking folks with symptoms to not attend in person, rather than asking hundreds of people to test each, day strikes a reasonable balance in measures to support the safety of our attendees.